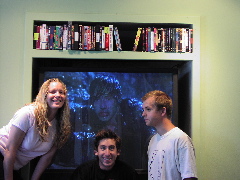 I was impotent with fear

I know where the bastard sleeps.

As is I have a part to play in a story that is not known to me yet.
[wh] Two words: bad accent.
Jeff
[wh] 2 years! This movie lasts 2 years! For how little this sense this "film" makes, it could have been adapted from any book (very loosely adapted) where a major plot device is Keanu's hair getting dusty. Despite what you may hear from others, accents are not the problem. At least not the biggest problem. Could be the usage of the same special effects from "Babes in Toyland." So many things seem to have gone terribly wrong with this. Have no idea where to start, so I won't.
Matt
Cast