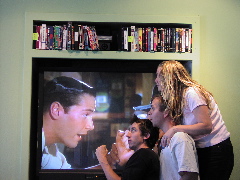 Maybe I will; maybe I won't.

So I've almost got an Oedipus complex.

You don't look 36 - you don't look like an aunt either.

I'm 21 and I lost my cherry 5 years ago.

So who says romance is dead.

I guess after New York it must seem kinda small.
[whooooa] So many Albanian references, so little time. This movie is a treat of Keanu-omedy. It is a damn shame that I fell asleep during this movie. I really do like it. Great movie, maybe even the reason we 'Thon, but if it were, I would have stayed awake for it.
Jeff
[whooooa] Young guy wooing older woman part #2 (this time without the he-is-a-young-Robert-Urich-aged-back-23-years-by-an-angel-on-the-bus twist) this time with Peter Falk (attempting to get RC's dander up every chance he gets) along for the ride (worry not, he is not the older woman) and Barbara Hershey as the older woman (pre inflated lips). Accented Keanu (southern – we're in New Orleans) turns in a predictably good performance (despite what Jeff may say about the accented Keanu). Very funny (I haven't laughed this much since "Brotherhood!") diamond in the rough (not sure what "diamond in the rough" means, but it does sound good, doesn't it?).
Matt
Cast